Home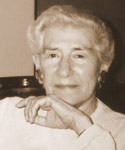 Photo by Iversen
Eleanor Koldofsky is the youngest of ten children born into a family that may have been poor, but that valued music, art, and literature. At ten, Eleanor sold her only pair of shoes to buy a concert ticket at Toronto's Massey Hall. Although her lack of shoes created a problem, her mother understood Eleanor's need to hear the great violinist, Fritz Kreisler. It was an episode that set the tone for Eleanor's life.

In a birthday gift to herself, Eleanor Koldofsky left school at sixteen to educate herself and earn a living.

Self-educated and self-reliant, she has raised a family and championed dozens of musicians while pioneering the Canadian jazz and classical music recording industry. Her efforts have, among other acknowledgement, won her several awards for recording excellence and several film industry awards for documentary filmmaking. Examples of her work reside in almost every school board and university in Canada.

In a life devoted to the assistance and recognition of Canadian artists' achievement and as a philanthropist and patron of the arts, Eleanor has helped fund, support, and champion Canadians in music, fine arts, and theatre.

With many awards and honors to her credit, she continues to co-sponsor Ontario theatre and guide Canadian artists onto the world stage.

Eleanor is a published poet and author, speaker and filmmaker, sponsor, fundraiser, and activist from community to national issues.
Eleanor Koldofsky
Toronto, Canada